Discover which are the world's best full service airlines
---
A year of travelling around the world, hundreds and thousands of flights, millions of passengers. eDreams has studied and analysed more than 70.000 reviews from travellers to draw up the list of the world's best full service airlines 2019.
Top 10 of the best full service airlines
---
Wondering which airline is the best for travelling in 2019? The results of the Top 10 Airlines are available! For two years in a row, Turkish Airlines achieve the first position of the ranking. Moreover, winning first place for in-flight service and value for money. Next slot is for Emirates, who boost their standing after being 6th position last year . Besides, they also won best aircraft category and best entertainment category. Last but not least, we have Aegean Airlines in third standing.
Air Corsica, Arolíneas Argentinas, Finnair, Middle East Airlines, and Etihad Airways made it to the list this year. On the other hand, Swiss International Air Lines descended 4 spots upon being in the top 3 last year and Aeroflot fall only one position. According to all of your reviews, these airlines stand as the top-notch of the world. Now that you learn about the best airlines, you should worry about booking a ticket and packing for your next trip!
Turkish Airlines: recognised for its on-board service and its ergonomic seats
---
Turkish Airlines was founded as the national Turkish airline in 1933. Originally, it started with 5 aircraft, however, it already has 332 aircraft, transporting 69 million passengers to over 304 destinations in 122 countries.
Athens
Istanbul
| | |
| --- | --- |
| Golden | The best airline I've flown with. Congratulations. |
Paris
Izmir
| | |
| --- | --- |
| Laurent | Turkish Airlines, still on top! |
The best airline, according to eDreams travellers, is distinguished by the cordiality of its employees and the added value they provide to their consumers. They strive to innovate to offer their clients a memorable travel experience. Do you have to wait for your flight? With Turkish Airlines, you can enjoy lounges with internet, games, movies, snacks and massages at the airports of Istanbul, Moscow, Washington DC and Nairobi so you don't have a never-ending wait. In addition, Turkish is renewing its seats to ergonomic to increase the satisfaction and comfort of travellers. At each stage of your trip, you are covered with Turkish Airlines!
Emirates: outstanding for a pleasant journey through your comfort, entertainment and check in
---
Emirates has embarked on its journey with only 2 aircraft in 1985. Its fleet consists of 265 most modern and efficient aircraft, in which this last year 50 million passengers have travelled to 80 different countries and over 155 different destinations.
Birmingham
Dubai
| | |
| --- | --- |
| Mags | Great price & always love flying Emirates! |
Barcelona
Bangkok
| | |
| --- | --- |
| J. Manuel | They were absolutely punctual and my expectations were widely fulfilled. Unbeatable! |
Emirates users highlight the excellent comfort, the ease of checking in, the modern aircraft and the variety of entertainment offered by the airline. It has entered the Top 3 of the best airlines for its achievements and for being a company that values society. The support for children with shortages through the Emirates Airline Foundation, the saving of fuel and emissions via alternate routes that save time and gasoline and using a single engine during the runway and recycling are some of the actions carried out by this airline to contribute to the world.
Aegean Airlines: acknowledged for its modern fleet of aircraft and environmental responsibility
---
Aegean Airlines began its journey in 1999 and since then, has achieved increasingly ambitious objectives: 61 aircraft, 153 destinations in 44 countries and more than 13 million passengers transported annually. In addition to the mentioned milestones, this airline was valued by the users as one of the best with in-flight service, value for money and modern aircraft. On the other hand, it is a company that cares about the environment and society as considering the several initiatives carried out.
Ben Gurion
Amsterdam
| | |
| --- | --- |
| Yaniv | It was a very nice travel. Flight was on time. I can say that everything went well. |
Athens
Madrid
| | |
| --- | --- |
| Sol | Excellent service on board and assistance of the hostesses on board and the staff at check in and boarding. The plane was in excellent condition; in general, we liked it a lot. |
Toward the goal of contributing with less fuel consumption and, therefore, reduce environmental impact, they have opted to install lighter seats and implement fuel saving techniques with new software. They also recycle waste inside and outside the plane and have created a compost system to fertilize the airport in Greece.
---
---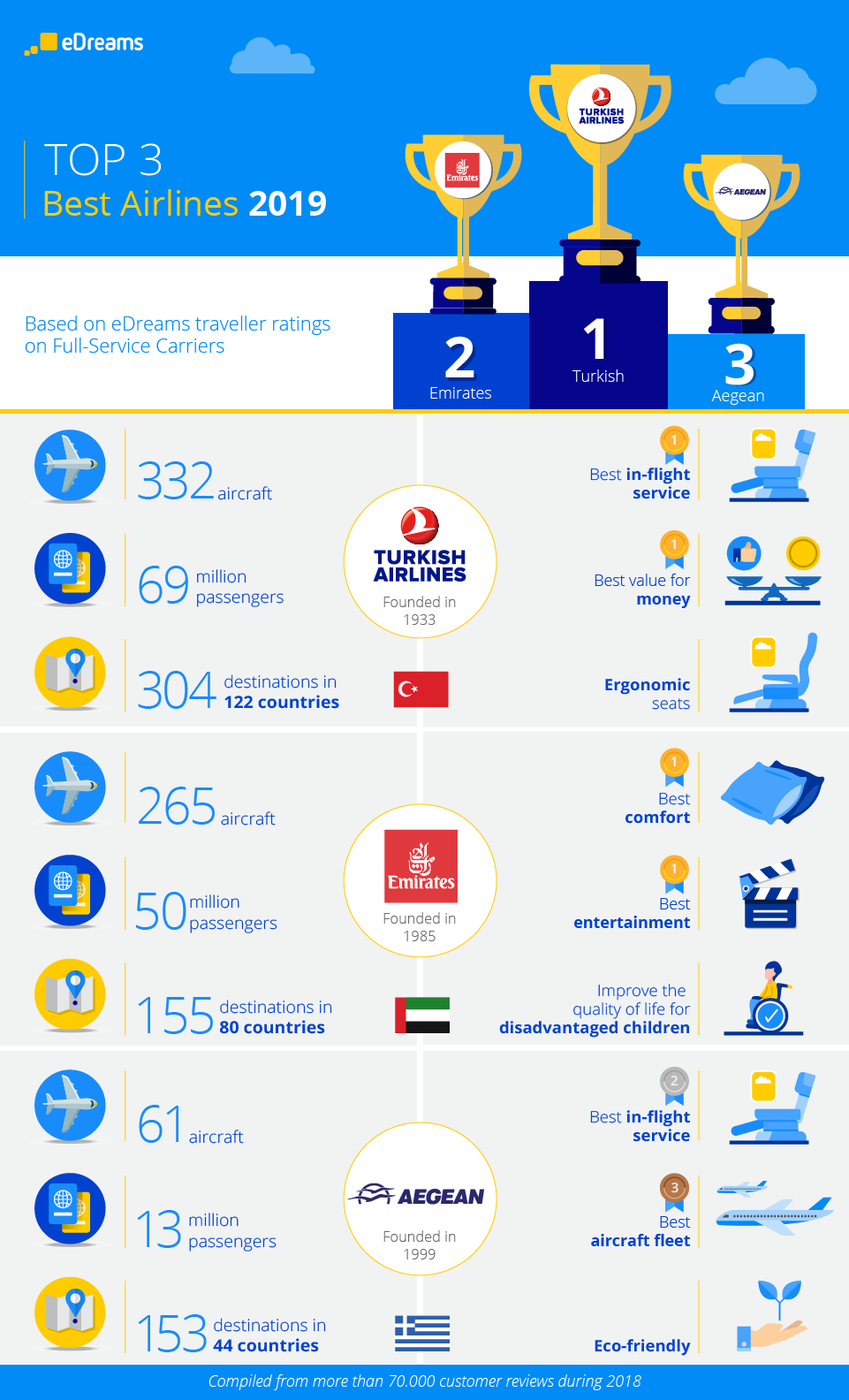 ---
---